Album: Ta någon hårt i hand, så ger vi oss av till tomteland... (EP)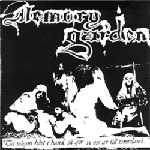 Year:
Label(s):
Here's what their official site says about it:

"As you may know it appeared in the booklet of "Tides" as an official release, this is NOT correct. It contains four different christmas songs with Swedish lyrics. We did it just for fun and we sent it to friends and people that had helped us in some way as a christmascard."

It is completely out of print and unavailable.
Memory Garden Lineup
Memory Garden Guests
Track List (1 Discs)
Disc 1 (3 Tracks )
Tomtarnas Julnatt
Stilla Natt
Jultomten Är Faktiskt Död