Album: Democracy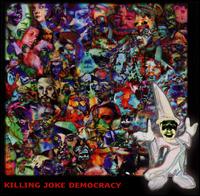 Year:
Label(s):
Hot on the heels of their successful 1994 'Pandemonium' album and tour, Killing Joke's members converged on the UK from their new found homes in three continents, to hide away in Cornwall and Henley on Thames, England, where they made this album.
Coleman had spent some time de-compressing at the end of 'Pandemonium' in Sedona, Arizona, where he had been inspired by the new interest in the native American culture, striking a chord with his previous involvement in Maori culture in New Zealand, where he had been settled for some time.
A more optimistic and new-age tinged album lyrically, while keeping some of the weight and import of 'Pandemonium', the album marked the beginning of a more settled period for singer Jaz Coleman, who had by now also made considerable progress with his orchestral career.
Production was overseen by Youth, with live session man Geoff Dugmore on drums. Synthesised textures from keyboardist Nick Holywell-Walker added to the concoction.
The album sessions culminated in a full-moon drumming fire ceremony on a small island on the river Thames, with Youth reportedly braving the murky waters for a naked swim. 'Democracy' was mixed in Sarm West in London's Portobello Road towards the end of 1995.
However, Geordie Walker has expressed disappointment with the resulting 'Democracy' album, and after a short tour in the summer of 1996, the band began their longest career hiatus to date, not re-emerging until 2003 with the excellent ' Killing Joke', the beginning of a powerful and resonant period which saw the band living close to each other in Prague, in the Czech republic.
Killing Joke Lineup
Killing Joke Guests
Track List (1 Discs)
Disc 1 (10 Tracks - 54:18)
Savage Freedom (4:53)
Democracy (3:39)
Prozac People (6:54)
Lanterns (4:53)
Aeon (8:05)
Pilgrimage (6:29)
Intellect (4:00)
Medicine Wheel (5:18)
Absent Friends (5:40)
Another Bloody Election (4:27)