Album: Killing Joke (2003)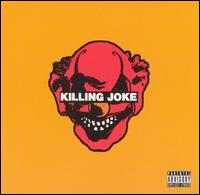 Year:
Label(s):
Killing Joke is an album first released July 28, 2003 by Killing Joke on Zuma Recordings.
It was Killing Joke's first studio album in seven years, featuring guest drumming by long-time Killing Joke fan Dave Grohl.
The song "The Death & Resurrection Show" was featured as part of the soundtrack of the game Need for Speed: Underground 2.
Killing Joke Lineup
Killing Joke Guests
Track List (1 Discs)
Disc 1 (13 Tracks - 1:11:40)
The Death and Resurrection Show (6:56)
Total Invasion (5:28)
Asteroid (3:24)
Implant (5:18)
Blood On Your Hands (6:00)
Loose Cannon (4:12)
You'll Never Get To Me (6:19)
Seeing Red (5:27)
Dark Forces (6:26)
The House That Pain Built (6:13)
Wardance 2003 (3:31)
Inferno (6:13)
Zennon (6:13)