Album: Anthology (DVD)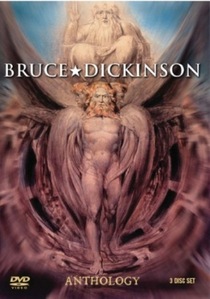 Year:
Label(s):
Disc 1:
Tracks 1-18 are recorded live at the Town and Country Club, Los Angeles, on the Tattooed Millionaire Tour.
Tracks 19-30 are recorded live at the Skunkworks Tour in Pamplona and Gerona, Spain.
Disc 2 is recorded live in Brazil during the Chemical Wedding Tour.
Disc 3 contains all Bruce Dickinson's promo videos.
Bruce Dickinson Lineup
| Musician | Instruments | Currently Also In | Used To Be In | Guest Appearances |
| --- | --- | --- | --- | --- |
| Andi Carr | Bass | | | |
| Eddie Casillas | Bass | | | |
| Chris Dale | Bass | | Balance Of Power | |
| Bruce Dickinson | Vocals | Iron Maiden | Samson, Speed | Ayreon, Halford, Tribuzy |
| Alex Dickson | Guitar | | | |
| Alessandro Elena | Drums | | | |
| Janick Gers | Guitar | Iron Maiden | Gillan, Gogmagog, White Spirit | |
| David Ingraham | Drums | | | |
| Adrian Smith | Guitar | Iron Maiden | A.S.A.P. (Adrian Smith and Project), Hear 'N Aid, Psycho Motel, Urchin | Michael Kiske |
| Roy Z | Guitar, Keyboard, Mellotrone | | Driver, Rob Rock | Rob Rock, W.A.S.P. |
| Fabio del Rio | Drums | | | |
Bruce Dickinson Guests
Track List (3 Discs)
Disc 1 (30 Tracks )
Riding with the Angels
Born in 58
Lickin' the Gun
Gypsy Road
Dive Dive Dive
Drum Solo
Zulu Lulu
The Ballad of Mutt
Son of a Gun
Hell on Wheels
All the Young Dudes
Tattooed Millionaire
No Lies
Fog on the Tyne
Winds of Change
Sin City
Bring Your Daughter to the Slaughter
Black Night
Space Race
Back from the Edge
Tattooed Millionaire
Inertia
Faith
Meltdown
I Will Not Accept the Truth
Laghing in the Hiding Bush
Tears of the Dragon
God's Not Coming Back
Dreamstate
The Prisoner
Disc 2 (10 Tracks )
King in Crimson
Gates of Urizen
Killing Floor
Book of Thel
Tears of the Dragon
Laughing in the Hiding Bush
Accident of Birth
The Tower
Darkside of Aquarius
Road to Hell
Disc 3 (14 Tracks )
Tattooed Millionaire
All The Young Dudes
Dive Dive Dive
Born in 58
Tears of the Dragon
Shoot All the Clowns
Back From the Edge
Inertia
Accident of Birth
Road to Hell
Man of Sorrows
Killing Floor
The Tower
Abduction