Band: Ken Baumgartner
Location:
Status:
A short EP released by a previously-unknown singer Ken Baumgartner. And he got members of Fates Warning, Armored Saint, and The Suicidal Tendencies to guest on it. The fact that it is terrible might be why he remained unknown.

At least it was an attempt to raise money to fight Leukemia, because otherwise the big name guest stars should be ashamed to be involved with such a terrible rehash of bad 80s glam metal.
Current (or Last Known) Lineup
| Musician | Instruments | Currently Also In | Used To Be In | Guest Appearances |
| --- | --- | --- | --- | --- |
| Ken Baumgartner | Vocals | | | |
Past Lineup (Members Who Never Appeared on an Album)
Discography (1 Releases)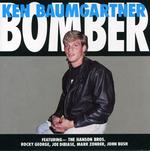 Label(s):
Genre(s):
Lineup: