Band: Lapse of Memory
Home Page:
Location:
Status:
This band cannot really be classified as death metal or any other style. It's more a mix of death and hardcore, with, at times, black and thrash inspired riffs. Vocals goes from death to hardcore style. Thus, this band is for anyone who likes one of these style and is open to something else.
This is not for those who like calm music !


Current (or Last Known) Lineup
Past Lineup (Members Who Never Appeared on an Album)
Discography (1 Releases)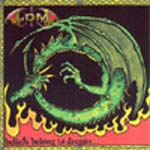 Label(s):
Genre(s):
Lineup: