Band: The Deserts of Traun
Home Page:
Location:
Status:
Deserts of Traun is a project by percussionist extraordinare Dave Murray (of Estradasphere, a band which I have yet to hear). Their only release to date, oddly titled Part III (kind of like Leonard Part 6, in that there are no other parts, but without the sucking), is a sci-fi based concept album. The interesting part is that the story is told entirely through the instruments (there are no vocals save for a few unintelligible growls in the background on a few tracks). The style ranges from funk to jazz to black metal, with some moments reminiscent of Phantom of the Opera. Quite an interesting listen; highly recommended.

Some writing has been completed for Parts 1 & 2, and Dave is looking for a record label to help finance their recording. If you know of one, email him from his site.
Current (or Last Known) Lineup
Past Lineup (Members Who Never Appeared on an Album)
Discography (1 Releases)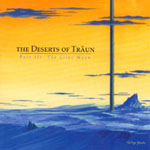 Label(s):
Genre(s):
Lineup:
| | |
| --- | --- |
| David Murray | Vocals, Guitar, Bass, Drums, Keyboard, Flute, Didgeridoo |