Band: Van Helsing's Curse
Home Page:
Location:
Status:
Dee Snider has put together a great instrumental disc. It's almost like a Halloween themed Trans-Siberian Orchestra, minus the vocals. There are a few choirs sometimes, giving it sometimes a Therion-esque tone. It includes metal renditions of popular "scary" classical tunes, such as Night on Bald Mountain, the Funeral March by Chopin, In the Hall of the Mountain King, and Moonlight Sonata. Even includes some renditions of newer songs, such as Mike Oldfield's Tubular Bells, and the song Black Sabbath (by guess who).
So what's Dee Snider's part in all this? He wrote the story and narrates it. And I must say he does a nice job of narrating it.
Current (or Last Known) Lineup
| Musician | Instruments | Currently Also In | Used To Be In | Guest Appearances |
| --- | --- | --- | --- | --- |
| Nick Cipriano | Keyboard | | Greyhaven | |
| Joe Franco | Drums | | Doro, Leonardo, Magellan, Vinnie Moore, Twisted Sister, Widowmaker | Eddie Ojeda |
| Al Pitrelli | Guitar, Keyboard | Savatage | Alice Cooper, Megadeth, Trans-Siberian Orchestra, Widowmaker | Doro |
| Greg Smith | Bass | | Alice Cooper, Doro, Vinnie Moore | |
| Dee Snider | Spoken Voice | Dee Snider, Twisted Sister | Widowmaker | Eddie Ojeda |
| Mark Wood | Violin, Strings | | | |
Past Lineup (Members Who Never Appeared on an Album)
Discography (1 Releases)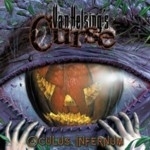 Label(s):
Genre(s):
Lineup: