Band: Virus
Location:
Status:
Virus is somewhat the continuation of Ved Buens Ende, even one of the band member is now in Virus ( though Agressor, Carl-Michael Eide, is known as Czral ).
Take Ved Buens Ende, take off the black metal influences, add some dissonance, add creepiness and psychotic lyrics, stir, and there is Virus.
This is more rock then metal, but this is so strange that only some people could stand it, and metalheads that like dissonance might dig this band.


Current (or Last Known) Lineup
Past Lineup (Members Who Never Appeared on an Album)
Discography (1 Releases)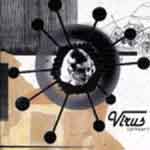 Label(s):
Genre(s):
Lineup: