Band: Unholy Cadaver
Home Page:
Location:
Status:
The early name of Hammers of Misfortune. They released only one demo, to my knowledge, before changing their name. Please refer to the Hammers of Misfortune entry for further details.

Since details aren't exactly on their website, I'm not sure the lineup or release date is correct on this one. Anyone who knows better, please email me.
Current (or Last Known) Lineup
Past Lineup (Members Who Never Appeared on an Album)
Discography (1 Releases)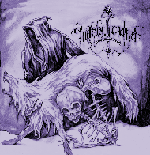 Label(s):
Genre(s):
Lineup: