Band: Mynjun
Home Page:
Location:
Status:
Mynjun combines multiple genres in their music, but the most important part of it is the melody and the melancoly of the songs.
I'd classify them as melodic death, with some prog and black metal touch.
Their 2003 Demo, Commencement, is available on their website. Give it a try !
Current (or Last Known) Lineup
Past Lineup (Members Who Never Appeared on an Album)
Discography (1 Releases)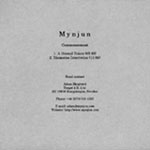 Label(s):
Genre(s):
Lineup: