Band: Hellcity 13
Home Page:
Location:
Status:
Hellcity 13 was created in 2004 at the end of a long hot summer (as described by Mica). They are a fairly young band; however, they seem to be quite sucessful given the length of time they have been together. Mica, LL Stud and Hyke were the band. Hyke has since left; they still get together to play once in awhile. J.J. Hjelt joined as a bass player as well as Tommy Mikael on guitar.
Hellcity 13 has demoed anywhere from 10-15 songs and are right now working on their first full CD. They are also in negotiations to hopefully attain a recording contract.
Hellcity 13 is certainly busy as they are finishing their CD, getting a record contract, and starting the planning of touring in several countries.
Current (or Last Known) Lineup
Past Lineup (Members Who Never Appeared on an Album)
Discography (1 Releases)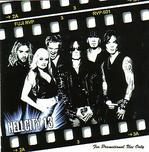 Label(s):
Genre(s):
Lineup: