Band: Ashen Mortality
Home Page:
Location:
Status:
Doom metal with a gothic tinge. The tone is melancholic and the metal is slow and plodding yet heavy enough to hold interest. Interesting lyrics deal with despair and sadness from a Christian perspective.
Ashen Mortality was formed in early 1993 by Ian Arkley (ex Seventh Angel) and Melanie Bolton. The Separation demo was recorded IN 1994, and earlier tracks were re-mixed with new recordings to produce Sleepless Remorse, the band's first album. Ashen Mortality played gigs with bands like At The Gates, Acrimony and Hecate Enthroned.
In 1998 George Aytoun officialy joined the band and they recorded Your Caress. The album was recorded in two days, obtaining worldwide distribution through Plastic Head. After several years of inactivity the band re-emerged, with a new drummer only to finally split up, with the original band members going their separate ways. Ian went on to form part of My Silent Wake.
Current (or Last Known) Lineup
Past Lineup (Members Who Never Appeared on an Album)
Discography (3 Releases)

Label(s):
Genre(s):
Lineup:

Label(s):
Genre(s):
Lineup: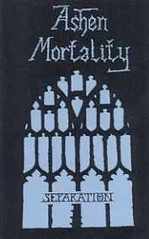 Label(s):
Genre(s):
Lineup: