Band: Order Of Ennead
If you like Order Of Ennead, you should also check out: Council Of The Fallen, Deicide
Home Page:
Location:
Status:
ORDER OF ENNEAD, hailing from the legendary Tampa, FL, play a unique style of extreme metal. Blending elements of death and black metal seamlessly together with emphasis on songwriting and structure. The well trained ear can also pick up the distant influence of the days of thrash. Not forgotten is the ever elusive guitar solo that at times is melodic and other times shredding.
Lyrically Order Of Ennead stand apart from the typical death or black metal topics. With song titles such as "As Long As I Have Myself I Am Not Alone" and "Introspection And The Loss Of Denial", the band explores existence, abolishment of negativity and that which makes up the self. Almost as much time has been spent on lyrical content as has been spent on the actual music. Delivering these words is a mid-ranged raspy vocal that is, dare I say, understandable!!
Order Of Ennead's self titled debut was recorded at Audio Hammer Studios(Black Dahlia Murder, Devil Driver, Trivium) with engineer Mark Lewis. The band consists of Steve Asheim (Deicide) on drums, Kevin Quirion (Council Of The Fallen) handling vocals and guitars, Scott Patrick (Resurrection) on bass, and John Li taking care of lead guitars. The album is due October 13th of 2008 in EU and the 28th of October in the US. Extensive touring will follow.
So what is the Ennead[en-ee-ad]? The Greater Ennead consists of the 9 beings that gave birth to the universe and bestowed knowledge upon man. Order Of Ennead has taken this term and used it as a representation of the potential creation that lies within. Through self awareness we will be enlightened. Through self discipline we will be ascended.
** copied from their myspace page
Current (or Last Known) Lineup
Past Lineup (Members Who Never Appeared on an Album)
Discography (1 Releases)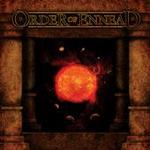 Label(s):
Genre(s):
Lineup: