Band: XthoughtstreamsX
Home Page:
Location:
Status:
XthoughtstreamsX play a diverse, eclectic mix of styles, ranging from grindcore to jazz to funk and back again. They're kind of a love/hate band, both in that some people love them and others hate them and also that I love some of their songs and hate others. There's no middle ground with these guys, and I respect that.

Sometime in 2002, they shortened the name to Thoughtstreams and have since disbanded (they lived too far apart to keep it going, the split was amicable). It's sad to see them part ways, but it's likely that all of the musicians will show up in other projects.

A posthumous compilation of all the songs they had recorded was planned for release in 2003, but it seems to have passed into obscurity. I, for one, would like to own it.
Current (or Last Known) Lineup
Past Lineup (Members Who Never Appeared on an Album)
Discography (1 Releases)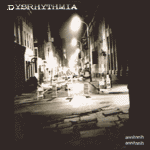 Label(s):
Genre(s):
Lineup: