Band: Havayoth
Home Page:
Location:
Status:
"Havayoth is a project featuring Vintersorg, Vargher (Bewitched) and Mad Morgan (Naglfar).

The debut album, "His Creation Reversed", is a musical experience rather different from these mentioned bands, but nevertheless an interesting approach in metal.

A more gothic sound, best described by drawing parallels to bands like Paradise Lost and Fields of the Nephilim. Atmospheres of melancholy yet with a catchy sound and a diabolical undertone. An album that is perfect for those who appreciate music with quality and deep feelings."

Taken from official site.
Current (or Last Known) Lineup
Past Lineup (Members Who Never Appeared on an Album)
Discography (1 Releases)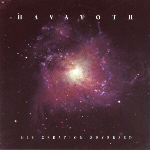 Label(s):
Genre(s):
Lineup: