Band: Last Prophecy
Home Page:
Location:
Status:
Melodic power metal from Spain. The music has a little bit of a dark feeling (frequent use of keyboards) and with very nice songwriting.

The band currently suffered some lineup changes due to lack of interest in the band by two members (Aitor & Asier). The vocalist and guitarist position has been filled by ex members of Meridiam.
Last Prophecy call it quits after not finding suitable replacements and because of personal & professional reasons.
Current (or Last Known) Lineup
Past Lineup (Members Who Never Appeared on an Album)
Discography (2 Releases)
Label(s):
Genre(s):
Lineup: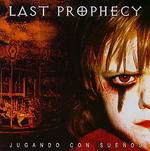 Label(s):
Genre(s):
Lineup: