Band: The 8th Sin
Home Page:
Location:
Status:
he history of these Hoogeveen-based Dutchsters begins in 2004 when Lugubrious Luug, Jeunis, Bruticus. Steve and Aafke joined forces and decide to form The 8th Sin. Bassplayer Timbaland joined the band in the cold winter of 2004 and the band's first complete alliance was a fact. Influenced by great bands like In Flames, Iron Maiden and Entombed the heavy metal-maniacs of The 8th Sin were rehearsing their asses off in order to compose aggressive music combined with some melodic parts.

Five of these songs were recorded and appeared on the band's first demo "Words of Hope, Cries of Sadness". These recordings were quite representative for the band's state at that time. Due to this demo The 8th Sin gained some nice gigs throughout The Netherlands in the following period. Despite of this early success, the band members weren't really satisfied with "Words of Hope, Cries of Sadness" and decided to write material which should be far more mature. The 8th Sin began to grow and their music started to become deadlier than ever before. Due to lack of time, Aafke (vocals) and Steve (guitars) quitted playing in The 8th Sin in the summer of 2006. Shortly after the departure of these members, guitar player Rykka joined the band.

With this new line-up The 8th Sin is finally able to create material which show a big improvement in song writing. This new-found inspiration resulted in the band's second demo which was recorded in April 2007. This untitled piece of brutality should be released in July 2007. It will contain 3 tracks which are as heavy and brutal as hell! Obviously there is no need to mention that band will continue their metalcrusade and will crush as much stages as possible. The 8th Sin hope to see you soon at the gates of oblivion!!
Added
on 10/30/2007 8:04 AM by
John
Current (or Last Known) Lineup
Past Lineup (Members Who Never Appeared on an Album)
Discography (2 Releases)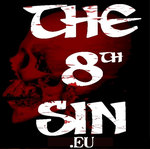 Label(s):
Genre(s):
Lineup:

Label(s):
Genre(s):
Lineup: