Album: Pandemonium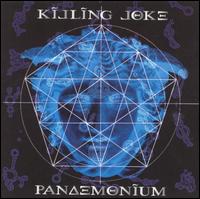 Year:
Label(s):
Pandemonium is an album first released on August 2, 1994 by Killing Joke under the Zoo label.
This album marked Killing Joke's return after a four year long hiatus, the longest the band has taken since it was initially founded. This album also featured the return of a founding member, as Youth replaced Paul Raven on bass guitar.
The screaming descending guitars of the title track, as well as the brooding "Communion" and the hyper-charged "Whiteout," would become live staples. A remastered CD with "Another Cult Goes Down" and an experimental dub remix of "Pandemonium" was released in 2005.
The album was described in its five-K Kerrang! review as "a jagged black cathedral of sound".
Killing Joke Lineup
Killing Joke Guests
| Musician | Instruments | Currently Also In | Used To Be In | Guest Appearances |
| --- | --- | --- | --- | --- |
| Geoff Dugmore | Drums | | | |
Track List (1 Discs)
Disc 1 (10 Tracks - 60:50)
Pandemonium (6:42)
Exorcism (7:26)
Millennium (5:34)
Communion (6:59)
Black Moon (5:19)
Labyrinth (5:55)
Jana (4:06)
White Out (5:43)
Pleasures of the Flesh (5:42)
Mathematics of Chaos (7:24)