Album: Hosannas From the Basements of Hell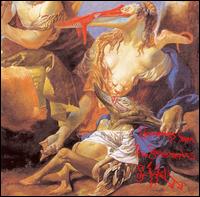 Year:
Label(s):
Hosannas from the Basements of Hell is an album released on April 3 2006 by Killing Joke on Cooking Vinyl Records. The track Hosannas From The Basements Of Hell was released as a single, and made it to #72 in the UK.
The cover artwork is taken from a painting by Russian artist Victor Safonkin entitled "Inhuman rearing". The artwork featured in the inside booklet is taken from "Society of good inventions and hidden aims", by the same painter.
The album title refers to the location of the album recording. The band recorded the album in a dark basement studio in the Czech Republic. They also used recording equipment from the late 1970s to achieve the dark, brooding atmosphere of the album.
This was Killing Joke's last studio album to feature bassist Paul Raven. He passed away in October of 2007.
Killing Joke Lineup
Killing Joke Guests
Track List (1 Discs)
Disc 1 (9 Tracks - 1:02:01)
This Tribal Antidote (4:15)
Hosannas From the Basement of Hell (5:52)
Invocation (7:54)
Implosion (6:41)
Majestic (5:40)
Walking With Gods (8:36)
Lightbringer (9:38)
Judas Goat (6:21)
Gratitude (7:04)